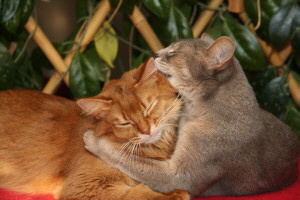 Our family consists of me, Susie, and my partner Mats and our cats . Mats has lived in Trelleborg (one of Swedens southern most cities) all his life and I moved here when I'd finished my studies in 1992. Then we moved into a flat but after three years we found a house which we bought and we're still there.
Since we've both had the privilege to have cats around as we grew up we were very much in agreement that to keep a cat locked up in a flat wasn't the right environment for such a freedomloving creature so we waited until we'd moved into a house before we gave in to our desire to have a cat of our own. The first summer in our own house we acquired two cats; Milton and Samson. The second year the first female cat was introduced into our family; Chelsea. After that we thought our slightly odd family of humans and cats was complete even though we did occasionally look with longing at the kitten ads but we firmly said, no, three are quite enough.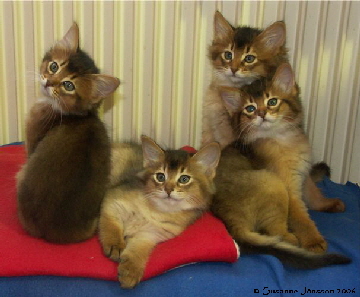 However, my sister Elizabeth bought herself a ragdoll kitten and decided to show him in March 2004 so we went to this show to offer our moral support. This was definitely our undoing since after reading about various catbreeds we finally met most of them and really fell for somalis. In June 2004 we fetched our fourth cat, Dutch.
2005 saw both the probable end of Sammy (Samson) who disappeared in April and, in August, the arrival of Trish. So at the moment we have four cats, but we never know when the next one is likely to move in.
The next cat to move in was Rebell and he came in September of 2006. Miltons kidneys couldn't cope any longer so we had him put down in December 2006. Unfortunately we were only allowed to enjoy Rebbys company for six months before we were forced to have him put down as well :-((
We've "kept" Jessica, one of the kittens Dutch had in December 2007, but as we don't want to risk filling the house with cats she's been housed in Smygehamn where she had a litter of kittens under our Foxglove's prefix before being neutered. In April 2008 I had a short trip to Helsinki to fetch Killy who is our current breeding male. From Trish second litter (born june 2008) we kept a blue somali girl, Phoebe, and we no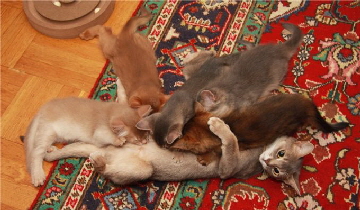 w also have a bengal, Frankie, just for company ;)
When the first ever mating between two S*Foxglove's cats produced a blue girl we first said; no, we haven't room for her. Thankfully we found a second hostfamily where we hope that Asta as she's now called will have a litter or two when the time is right.
When Asta had her first litter in November of 2011 I managed to find one of her two boys a hostfamily and although we don't have a suitable girl for him we hope that he will be able to become the father of a couple of litters before being neutered.